Common Law Trial by Jury
Introductory  Video above from Make A Stand Movement
A brief introduction to Trial by Jury
Whether you believe there is government overreach in the lives of ordinary people or not, there is a better way for our courts to operate then they currently do. 
At present many people are immune from legal prosecution when working for government or big business, it means not only that mistakes may not be held to account but that those with deliberate ill intent to cause harm are also protected, this should not be so. Judges are government appointed and paid, so if legislation is brought in compelling people to take a medical procedure how can Judges be unbiased, there is a conflict of interest, the Jurers randomly chosen from the people must be the Judges in all matters the so called 'Judge' should be a Convenor on hand to give advise only if the Jury request it. 
At one time the people had solutions because it was rightly viewed that government is there to serve the people and protect their interests. People had a means to protect themselves from power crazed people who find their way into influential positions, it was Trial by Jury and this was what was meant by 'Democracy' it literally means 'people rule', what it does not mean is people choose who rules them, that is suffrage. 
So how was it that Trial by Jury enabled the people to keep control over over reaching governments and protect themselves? We need to look the historically well proven Constitutional Common Law Trial by Jury (which we do not unfortunately have now) to see how it worked. 
1. The Jury were the Judges, twelve randomly chosen people, peers in social standing of the accused, in early days this was only men now it would be men and women. What we now call a Judge (government appointed and paid) was a Convenor, an administrator. 
2. The Jury would need to able to see all the evidence and decide for themselves what weight to give each piece of evidence, which used to happen, nowadays key evidence that would affects the case may be hidden to produce the 'desired' outcome, desired by government. 
3. The Jury decided on the facts of the case, whether they believe A or B, the plaintiff or the defendant. This is still the case. 
4. The Jury could decide whether someone is guilty or not-guilty, for example if there was a statute from government that it is an offence to do something, and it was agreed all round that this happened, if Jury believed that there is no guilt in that, in other words that anyone in the same position would do exactly the same and even that it may be the right thing to do, they could find not guilty, and annul that law. Nowadays 'Judges' or more properly the Convenors tell the Jury that is not for them to decide, so bad law continues to affect more people. 
5. Anyone could bring cost free prosecutions but a guilty verdicts requires unanimity so be careful bring a baseless case as costs could be awarded against you. 
6. If there is no guilt, ill intent, mens rea, but a harm has occurred then compensation would be appropriate. 
7. When there is guilt the Jury set the sentence which is how it should be since they as peers are best placed to decide the case including both mitigating and compounding circumstances, nowadays the who should be the Convenor (now a Judge) sets the sentence. 
8. In Common Law everyone is equal under the law but now with immunity from prosecution for certain groups there is a double standard. 
You can see from the above how government now protects itself from the very people it is supposed to serve. This has happened by traitors to the people little by little changing things to suit themselves and those they serve, (which should be the people but now is obviously not). 
NB It is worth noting that those seeking to avoid accountability need only fear a Jury if they intended harm, and they should remember that they will be judged by peers, that does not mean people in the same organisation as that would be prejudicial but possibly managers of a similar or near similar level, perhaps from other industries, people who understand the pressure and can judge right from wrong.
There are a few differences in opinion and focus between the various organisations interested in Common Law.
1) The setting up of Common Law Courts and the make up of the Jury, are they selected randomly from the general population or from their members / supporters only. Common Law Earth (Australia) select from their members.
2) Lawful Rebellion, Unlawful Rebellion. This is complicated but if government is supposed to serve the people (which it is, or else it is despotism) how can the people be rebellious against a government that is itself rebellious because it is no longer serving the people, it is not the people who rebellious but the government, why loose the moral high ground by accepting a term that implies you are in the wrong and causing trouble. The link below explains more.
Lawful/Unlawful Rebellion - https://www.democracydefined.org/essays/OPEN_LETTER_TO_UNLAWFUL_REBELS.pdf
Trial by Jury is so important
To summarize, in Common Law, everyone is equal under the law and the law is to intend no harm.
The benefits of Constitutional Common Law Trial by Trial are profound:
Common Law Juries nullify extremism. Common Law tends to deliver common sense decisions that are remarkably consistent, even across different cultures, it seems we are all born with a sense of fairness, even children have a strong sense of what is fair and what is not.
Many laws and statutes come about due to pressure from campaigning groups, the many feminist organisations and also Black Lives Matter, Antifa, Extinction Rebellion etc. many of these groups are funded and supported by the globalists who have their own agenda and control our governments, however, that is another very big story.
The important thing to know is that there has been a Common Law solution to this madness right under our noses since Alfred The Great and even before in Gothic Europe. Democracy Defined by Kenn d'Oudney it's a truly great book on law that explains this and much more, and should be widely read. 
Common Law Trial by Jury is the people's safeguard against bad law and statutes, twelve randomly selected people with no vested interest can find there is no guilt even when laws and statutes are broken, for there is no guilt in breaking a bad law. Common Law Juries can judge a case, choose what evidence is can be heard, call witnesses, set the sentence, and pronounce 'not guilty' even when a law or statute has been broken, Common Law Juries have the power of Annulment by Jury. 
This is the people's way to control over reaching government and annul bad law. 
Common Law is extremely important, most of the worst evil in history has been committed by governments, so it is worth remembering that democracy (not to be confused with suffrage) means people rule, it does not mean the people chose who rules over them. The government works for the people, it is subordinate to the people, and Common Law Trial by Jury (not the illegally watered down version we have now) is how it is carried out. 
A leaflet titled "Why is Trial by Jury Important" is available to print, fold and hand out to anyone interested in law, on the Democracy Defined website at: https://www.democracydefined.org/EIS4_Why_Is_Trial_by_Jury_Important.pdf
I recommend checking the sites below: 
https://www.democracydefined.org/ 
https://www.britishconstitutiongroup.com/
https://www.newchartistmovement.org.uk/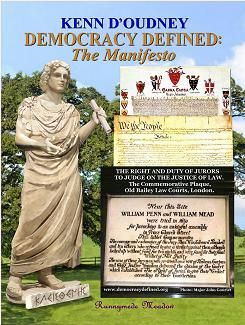 Democracy Defined
The Democracy Defined website is such a guiding light for the Common Law movement for the restoration of true Trial by Jury and the way that the people control their governments and protect themselves from tyranny, but it is the book itself "Democracy Defined-the Manifesto" by Kenn D'Oudney that is the real shining light, everyone who is interested in justice should read it. I have found it on Abe Books and Amazon but there may be others. There is an updated July 2020 edition, personally I think this is the one to get. This is an educational campaign and also a political one, the political parties are culpable and the way forward if Independent candidates standing on the Restoration Amendment, restoring true Law of the Land Trial and Annulment by Jury where the people take control over their government by nullifying their bad laws.
The quote below is from their website, but please check it out for yourself at democracydefined.org
"All societies govern by their Justice System: if there be institutionalised corruption therein, then the entire body corporate of government, and those who direct government, and all those who enforce its illegitimate measures become parties culpable in varying degrees for their engendering, or collaborating with, the Illegality of the Status Quo. Only the corrupt benefit. As a consequence, the people suffer massive Crimes against Humanity and Crimes against Peace on a constant, ongoing basis. 
Within the texts of the Democracy Defined Campaign Philosophy rests the Sole (peaceful) Solution to the monumentally growing criminality of governments, and of those who control governments from behind-the-scenes. The adoption of this Philosophy proffers the prompt worldwide elimination of tyrannies and all the Crimes against Humanity committed by politicians and governments. 
This indispensable Universal Solution is not found in tinkering with legislation. Far from it. As carefully expounded herein, only by application of the tried and well-proven constitutional legem terræ does the elimination of most of all crime, common and statist, and permanent relative Peace on Earth become feasible. 
Due to the false preachings of modern politicians, you might have a completely mistaken idea of what democracy really is - many people do. This website brings home the realities."
The New Chartist Movement
Probably the best way to describe The New Chartist Movement is to show you their Sovereign People's Charter (below) they hope that small local groups of Chartists will form and take this important message to many communities.
The Great Charter of 1215 (Magna Carta), protects in perpetuity all our nation's ancient and unalienable rights, laws 
and freedoms. However, in recent decades, the absolute supremacy of this Charter has come under unlawful and 
treasonous attack as never before by a powerful and corporate system of false governance – an outright attack on the 
very freedoms, security, health and happiness of all of us. 
Our elected servants in Parliament – the political class – have effectively created a 'Government of Occupation'... that is 
a government which seeks only to serve the vested and corporate interests of the City of London rather than the interests of us, the Sovereign People of the United Kingdom. 
The truth and the common-sense solutions needed to fully restore the protection of The Great Charter have now been 
uncovered. We, the Sovereign People of the United Kingdom, are now pledged to lawfully take back control from those 
who seek to govern us by use of deception, entrapment, tyranny and outright harm. This can only be achieved by the 
immediate implementation of the Seven Requirements of the Sovereign People's Charter. They are... 
THE SOVEREIGN PEOPLE ' S CHARTER 
Truth and Common-sense to end tyranny and harm 
The Seven Requirements needed for a safe, sovereign, peaceful  and prosperous United Kingdom 
1. The Full Restoration of our ancient and proven Common Law Trial by Jury and Annulment by Jury Constitution that 
puts us, the people, firmly back in authority over our agenda-driven and self-serving politicians, judges, lawyers and 
bankers by lawfully removing from them their powers to punish and deceive. 
2. The Creation of Prosperity for all by bringing back debt-free and interest-free Treasury money that's based on the 
wealth and labour of our nation – exactly as we did in 1914 with the enormously successful 'Bradbury Pound'. 
3. The Ending of abuse and harm of all children whilst protecting the Common Law rights of parents so as to 
strengthen the family unit. 
4. The Assurance that we have the Armed Services needed to fully protect the sovereignty of our country from all those 
wishing us harm, whilst also guaranteeing the operational resources needed for effective and nationwide Community 
Policing to keep our streets safe. 
5. The Exposure and Removal of the hidden and alien system of 'legalese' governance that controls our judges and 
court system whilst using outright fraud, deception and entrapment to unlawfully impoverish and constrain the 
ordinary people of our country. 
6. The Call for a new and democratic Europe of Sovereign Countries to replace the planned European Union 
Superstate – a fresh European initiative that's free from the unelected and unaccountable European Commission and 
the privately-run, debt-creating European Central Bank. Such a Europe would work in harmony on strategic issues 
such as trade, transport and the environment. 
7. The Guarantee that science is always used for the well-being and advancement of all and not for the profit and greed 
of the few. This includes the immediate termination of the extremely harmful and dangerous 5G roll-out, Fracking, 
Geo-engineering and Compulsory Vaccinations. 
It's time to heal and unite our country with truth and common sense – please get involved and alert all your 
family, friends, and local community to this Charter and what's behind it. Thank you. 
www.newchartistmovement.org.uk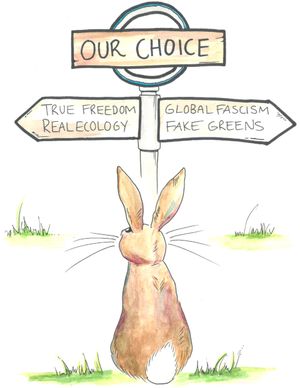 The Harwick Alliance for Real Ecology
A great organisation and website to visit below is taken from their "ABOUT" page please visit their website and see if you can help in their noble aims.
ABOUT HARE 
HARE was formed in February 2020 at Hardwick House, Whitchurch-on-Thames in Oxfordshire, with the task of creating a united and purposeful front to expose, challenge and reverse our present deeply oppressive, corrupted and degraded political and economic systems. 
Our country's ancient freedoms are now under threat like never before as corporate megalomaniacs pursue a clear global agenda that's taking us down a road to a technology-based totalitarian and centralised society, completely at odds with the values of human-scale ecology we all hold dear. Freedom has to prevail over fascism. 
To achieve this, HARE is committed to developing a fresh socio-economic model that's based upon holistic, humanitarian and just practices for the betterment of all humanity. 
What we seek to do: 
Bring together individuals and groupings of people committed to promoting: 
The widespread adoption of human-scale, pro-ecological agriculture. 
Localised renewable energy production along with supporting deliberately suppressed 'free energy' technologies. 
A radically reformed monetary policy that's centred around harnessing a nation's natural wealth and creativity thereby removing the need for invasive taxation and the creation of destructive debt via borrowing at interest from the private central banking system. 
The full restoration of Common Law Justice that protects the socio-economic, humanitarian and spiritual values that form the very foundation of universal fairness, vibrant health and real happiness for Life on Earth. 
The Hardwick Alliance prioritises alerting the wider public to the planned 'deep state' tyranny that's centred around the World Economic Forum's post-pandemic 'Great Reset' designed to globally implement the fake 'zero carbon' Green New Deal and the United Nations Agenda 2030 (formerly UN Agenda 21). 
Current HARE activities include pushing for the complete restoration of Sovereign National Credit to prevent the planned post-pandemic economic collapse; heightened public awareness concerning the dangers of 5G to health; and exposing the deliberate disinformation and deception surrounding the completely contrived Covid-19 crisis. 
Our Methodology: 
Helping to bring together like-minded people, groups and networks in an alliance that magnifies the overall effectiveness of our collective campaigning. 
Voicing our very real concerns in a thoughtful and well-researched manner. 
Promoting proven solutions that will completely reverse the destructive goals of the current embedded political and corporate tyranny. 
Establishing working groups that will develop imaginative and effective ways to spread the message into all avenues of society. 
Practising responsible civil disobedience when and where it becomes necessary to do so. 
Key Areas of Research and Action: 
Ecology—to ensure that our food economy is de-corporatised and always aligned with human-scale working practices which enhance biodiversity, ensure clean air and the minimisation of waste and pollution, whilst encouraging organic, local and seasonal food by harnessing best pro-ecological farming practices. 
Suppressed science/medicine—to expose the currently suppressed evidence that non-polluting 'Free Energy' technologies exist, as do safe non-allopathic cures for cancer and other serious illnesses. 
Sovereign National Credit—to reveal and expose the completely corrupt and criminal debt-creating central banking system by restoring the ability of our country to trade in debt-free and interest-free money that's based solely on the wealth and creativity of our nation. 
Common Law—to secure the supremacy of our Common Law with its trusted Trial by Jury and Annulment by Jury system which ensures that the people and not the politicians are ultimately in charge.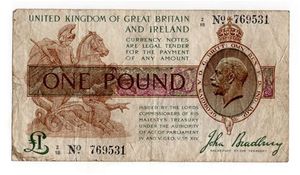 Bradbury Pound
Any Nation from it's own Treasury can create it's own debt free, interest free money and use it for the good of the Nation, to invest however it likes. The all powerful privately owned banks (the Bank of England is just a private bank linked to the private bank The Bank of International Settlements in Basel Switzerland)) don't want Nations to go this route as it cuts them out, they have been allowed to simply type an amount into an account even a government account and then charge interest on that nothing, all the UK's income tax goes on interest payment but surely if the private banks just typed an amount of nothing into an account they should be paid back with nothing, not people's hard earned real money. This is insane, how did it come about? Here is a tremendous article covering not just the Bradbury Pound but the rise of the Rothschilds - https://stolenhistory.net/threads/the-bradbury-pound-other-things-you%E2%80%99re-not-supposed-to-know-about.5353/
The extract below is taken from an article on The New Chartist website related to a potential financial crisis connected to the Coronavirus pandemic or plandemic, depending on your view, the main point is that any Nation can create its own currency free from the private banks:
The simple and undeniable fact is this: a sovereign nation that is drowning in a sea of unsustainable 'debt' is far more compliant to the will of this global financial system and the psychotic and globalist mind-set behind it, than a sovereign nation that is free from any sort of national debt and which, therefore, does not find itself caught up in the grasping tentacles of the Bank for International Settlements (BIS).
Based in Basel in Switzerland, this very little known—and completely unaccountable—private financial institution is the coordinating hub for sixty-two of the world's central banks, including the Bank of England, the European Central Bank and the Federal Reserve itself. The BIS also oversees over 95% of the world's money and is where the governors of these central banks receive their confidential instructions from the powerful banking dynasties such as the Morgan, Oppenheim, Lehman, Warburg, Rothschild and Rockefeller families. 
The so-called 'debt' that the world is currently drowning in (apparently, the so-called Derivatives Debt Bubble hanging over the world is now fast approaching two quadrillion dollars) has been very largely arrived at by governments of sovereign nations borrowing debt-laden 'money' from the usury-practising private financial and banking sector—'money' that has been created completely out of thin air as debt and which is not backed up by gold or assets of any description. This is called fraud by most normal people and the entire 'debt problem' is only perceived as such by people who are very ignorant of how money is actually created and by whom. And, for dealing with the financial fall-out of Coronavirus, it is also the case of the British people not knowing their own history! 
Back in August 1914, at the outbreak of the First World War, in order to avoid the imminent collapse of the private banks and the Bank of England itself, Parliament passed a Bill through Parliament in two days which authorised HM Treasury—not the Bank of England—to create, issue and control money that was debt-free and interest-free because it was based entirely on the wealth and labour potential (creativity) of the British nation. The high-street banks reopened within days and people who had planned to withdraw their savings in gold (Britain then being on the gold standard) were more than happy to accept these new Treasury notes created by HM Government and, contrary to the 'wisdom' of mainstream economists, there were no problems at all concerning inflation. 
The fraudulent and debt-creating private banking system was saved from collapse but unfortunately the politicians in Parliament (who were, and still are, subservient to the wishes of the City of London) then went back to selling bonds and thereby unlawfully borrowing this debt-laden 'money out of thin air' from the private financial sector—a clearly criminal action on the part of our political class that resulted in the bankers being able to make an absolute killing out of the killing on the Western Front.  And it also meant that the National Debt went up—unlawfully—from £650 million in 1914 to £7,500 million in 1919.
Read more at: https://www.newchartistmovement.org.uk/urgent-actions-this-day/alert-action-this-day
Here is a tremendous article covering not just the Bradbury Pound but the rise of the Rothschilds - https://stolenhistory.net/threads/the-bradbury-pound-other-things-you%E2%80%99re-not-supposed-to-know-about.5353/
A little book called 'Alice and the Money Tree' by JM Weston Briggs sheds light on this subject in a very entertaining way, it's only 58 pages long and is a very easy read, highly recommended. ISBN 9 781999 848507
Grand Jury Court of Public Opinion
On this website you can view all the actual jury videos, hours of compelling evidence on 'Covid -19 Crimes Against Humanity'
From their website: https://grand-jury.net/
Grand Jury Proceeding by the Peoples´ Court of Public Opinion 
Empowering Public Conscience through Natural Law 
'Injustice to One is an Injustice to All' 
We, a group of international lawyers and a judge, hereby are conducting criminal investigation modelled after the United States Grand Jury proceedings. This Grand Jury Investigation serves as a model legal proceeding to present to a jury (consisting of the citizens of the world) all available evidence of COVID-19 Crimes Against Humanity to date against "leaders, organizers, instigators and accomplices" who aided, abetted or actively participated in the formulation and execution of a common plan for a pandemic. Crimes to be investigated include all acts performed or omitted by a person in pursuance of a common design to commit Crimes Against Humanity, and all such criminal acts condemned in the various communities of jurors around the world. 
This investigation is of the people, by the people and for the people and shall be referred to as the 'Peoples´ Court of Public Opinion. Having been unable to find a court to hear the actual evidence in the current system´s courts of law, we are undertaking this proceeding outside of the current system and based on natural law. This, in turn is founded on the firm belief that every person can easily distinguish between good and evil, and between right and wrong. 
The allegation is that the world's governments have come under the controlling influence of corrupt and criminal power structures. They colluded to stage a pandemic that they had been planning for years. To this end they deliberately created mass panic through false statements of fact and a socially engineered psychological operation whose messages they conveyed through the corporate media. 
The purpose of this mass panic was to persuade the population to agree to the so-called "vaccinations" which have in the meantime be proven to be neither effective, nor safe, but extremely dangerous, even lethal. 
The economic, social, and health damage that these Crimes Against Humanity have caused to the world's population can be measured in quadrillions of dollars. 
The lawyers listed below, with the assistance of a number of highly respected scientists and experts from around the globe and under the auspices of a judge from Portugal, will conduct this Grand Jury Investigation and thereby provide the jury (the citizens of the world) with a complete picture of these Crimes Against Humanity. 
The 'Peoples´ Court of Public Opinion´s investigation´s purpose is twofold: On the one hand it is to serve as a model proceeding and get indictments against some of the criminally and civilly responsible figure heads of these Crimes against Humanity. And on the other hand it is – through showing a complete picture of what we are facing, including the geopolitical and historical backdrop - to create awareness about: 
- the factual collapse of the current, hijacked system and its institutions, and, as a consequence 
- the necessity for the people themselves retaking their sovereignty, and 
- the necessity to first stop this plandemic´s measures by refusing to comply, and 
- the necessity to jump-start their own new system of health care, education, economics and judiciary, so that democracy and the rule of law on the basis of our constitutions will be reestablished. 
The Peoples 'Court of Public Opinion works independent of any government and any non-governmental organization 
Logistic support is provided by the Berlin Corona Investigative Committee: 
www.corona-ausschuss.de (German) 
www.corona-ausschuss.de/en (English) 
https://odysee.com/@Corona-Investigative-Committee:5 (Hearings in English) 
Telegram (German) 
Telegram (English) 
Attorney at Law Virginie de Araujo Recchia, France 
Judge Rui Fonseca E Castro, Portugal 
Attorney at Law Claire Deeks, New Zealand 
Attorney at Law Viviane Fischer, Germany 
Attorney at Law Dr. Reiner Fuellmich, Germany 
Attorney at Law N. Ana Garner, USA 
Attorney at Law Dr. Renate Holzeisen, Italy 
Attorney at Law Tony Nikolic, Australia 
Attorney at Law Dipali Ojha, India 
Attorney at Law Dexter L-J. Ryneveldt (Adv.), South Africa 
Attorney at Law Deana Sacks, USA 
Attorney at Law Michael Swinwood, Canada 
Cooperating Human Rights Defenders and Legal Activists 
Tjaša Vuzem, Slovenia 
Gina Cloud, USA 
Dr. Cristiane Grieb, Canada 
Leslie Manookian, USA 
Media Release Grand Jury Proceeding Feb/05/2022.pdf 
To be added to a list of supporters please contact us at contact@grand-jury.net
Common Law Court Currency
You might like to check out this currency run by the Common Law Court, see their notes below and a link to the site.
Common Law Court Currency - The Cruiin 
No longer will the government have access to your money or account, and no longer will there be any restrictions on the amount of money that you can deposit or withdraw. As the Cruinn is a currency for the people, it is non-taxable. 
Initially, the Cruinn will be used for all transactions, in relation to the Common Law Court and all CLC associated websites. The 'Cruinn' will be used to secure your assets. 
The Cruinn coin is backed by gold. The intention for using the Cruinn is to assist with the setup of our own common law communities, which in turn will assist the development of the Common Law Court. The Cruinn will also secure the CLC Peace Service and constables, CLC Health Clinics, CLC Educational facilities, CLC Media and the CLC Currency Wallet (a common law option for banking). Now ask yourself the following questions and remember you now have a choice: 
To remain healthy, do you require pharmaceutical products or natural remedies? 
Do you accept the state agenda for teaching of would you prefer your children to be taught the truth? 
Would you like police that enforce statutory legislation and fines or constables that protect the people? 
Would you like state run media that covers their own agenda or CLC Media that covers the truth? 
A bank account, with fiat money and state control or a CLC currency that is safe, secure and yours. 
What kind of world do you wish to live in? 
A New Voting System
Governments are supposed to serve the People, that is their role, it is not to serve unelected, global organisations. 
In the UK the First Past The Post system is used to elect constituency MPs to Westminster, other systems such as Alternative Vote and Proportional Representation have been considered. All systems have benefits and problems, but it is very clear that there are serious problems with the present system, as follows: 
1. Too much legislation is rushed through without public support, people are disenfranchised, and a rival party upon elected will often reverse this legislation, all because of disregarding the people. 
2. We need to increase voting according to conscience in Parliament, not party whipping, so we need independent MPs who are free to do this. 
3. We need to reduce the potential of global corporations and their Non Governmental Organisations exerting influence over the people or even usurping power entirely. 
4. Currently, whether voting for a Party or Independent candidate, voters have a limited choice regarding policies because they have to accept a set of policies or views they disagree with in order to have other policies and views they do support represented. 
5. The result of voting for Parties in a FPTP system is more overall majorities and so secret Cabinet meetings decide the people's future, while Parliament and hence the people are shut out because of party whips, who largely control how MP's vote. We would benefit immensely from Independent candidates who are free to vote with their conscience, 
I propose a hybrid system to help deal with the 5 points above and, I would state now that it is important to stick with hand counting of paper ballots for public confidence as electronic voting is fraught with danger. 
1. Firstly-Voting for a constituency MP. This is to be only for Independent Candidates free to represent their constituents by an Alternative Vote ballot. This will make up half of the parliamentary seats, constituencies will be twice the size to reduce the number of MPs accordingly. These Independents, free to represent their constituents, will help provide common sense balance over blind party dogma in the House of Commons, leading to fewer reversals of legislation. 
2. Secondly-Policy Voting. The remaining half of the seats are reserved for Parties under Proportional Representation and Party List. These may be broad based Parties, single issue parties or anything in between, two votes of equal value may be cast for different Parties (not two votes for the same Party). A voter may choose two broad parties, two single issue parties, or one of each. If a voter is passionate about a particular issue that runs the broad based Party they would normally support, they can express this, leading to greater voter satisfaction and engagement. The list of parties nationally could be huge, so rather than put an X against a party name you put three letters in Box One and another three letters in Box Two e.g. CON, LAB, LIB, GRN etc. or single issue parties might be NHS (self explanatory) or TBJ for Trial By Jury Party, EUP for European Union Party, BRX Brexit Party  etc. simply however the parties have decided their three letters.
Note: If you wish to have a successful Cabinet, you may choose people from another party or Independents to work with you to help carry the vote in Parliament. Such a system is much more likely to carry the public with you, after all it is the public that government should serve.
As before, the Leader of the largest Party is given the opportunity to form a cabinet to put bills before the House, there will still be private members Bills.